Most of us know Mr. P by now - from his stints on breakfast TV to his hilarious Mrs May readings on Facebook. However, in recent weeks Mr P has moved on to a new venture… one that promises to help all teachers get their Netflix time back by helping them cut their workload. You can hear Mr P's own introduction to the platform on his Youtube channel:
A Step-By-Step Tutorial of TeachMateAI by Mr P ICT
We trialled Mr P's new TeachMateAi to see if it really can save teachers time - and wrote all about the experience.
First Impressions
My initial impressions were that I was blown away by the sheer number of tools available and - if they all worked as I hoped they would - the amount of time this could save me. Here's just a glance at some of the tools under the 'Teacher Tools' tab: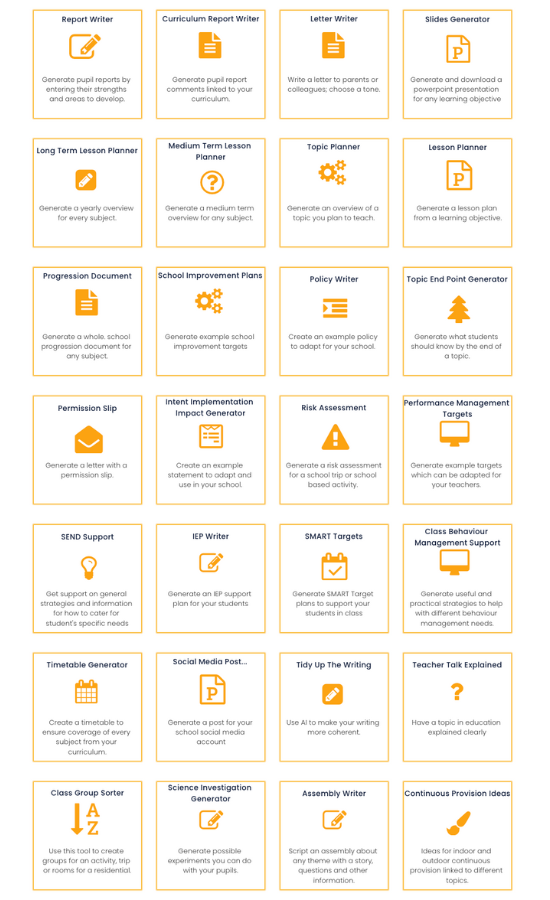 For most of us, it's currently reports season and the question running through my mind is whether I can get my reports written before May half term, or if I'll be taking my laptop away on holiday, so this seemed the best place to start.
How to write reports in less than a day:
First: a disclaimer. I am not completely new to using AI programmes. Like many, I have played around with Chat GPT, asking it questions like "Why is my Google Spreadsheet not working" and "Make me an easy workout plan that will help with back pain." From this, I've realised that ChatGPT has been known to spit out quite formal, robotic texts, which does not fit with my chatty style of report writing. So, I wasn't starting hopeful.
Fortunately, TeachMate have got this sussed. To use the tool, simply input the name of the pupil, the subject you want the report to be about, the length of the report, and choose between formal and informal writing style. Then you're asked to pop a few notes about the pupil's strengths and weaknesses before you generate your report.
I asked for a quick report to be written about my colleague, Kate, which you can see below:
Kate is an absolute joy to have in our English class! She constantly dazzles us with her boundless imagination and talent for storytelling. Her passion for drama is infectious and she brings a lot of energy to the classroom. On occasion, Kate can become quite chatty during lessons, which sometimes distracts herself and others in class. Nonetheless, she has made significant improvements in this area and continues to work on being more aware of her talking. Overall, Kate's enthusiasm and creativity make her a valuable member of our class and we look forward to seeing her progress in the future.
This tool is a time saver - there's no doubt in my mind - but it also allows me to spend my time on the things that matter - making sure reports are personalised to each student, instead of applying a best-fit copy paste job across the board (no judgement here. Writing reports is tough).
Can it write curriculum based reports?
In the Primary school that I worked in, we pretty much wrote two reports for each subject: one relating to the pupil, and another relating to their development in line with curriculum aims.
TeachMateAi have not forgotten this. Their second tool is a Curriculum Report Writer - where you can choose the curriculum you use (pictured).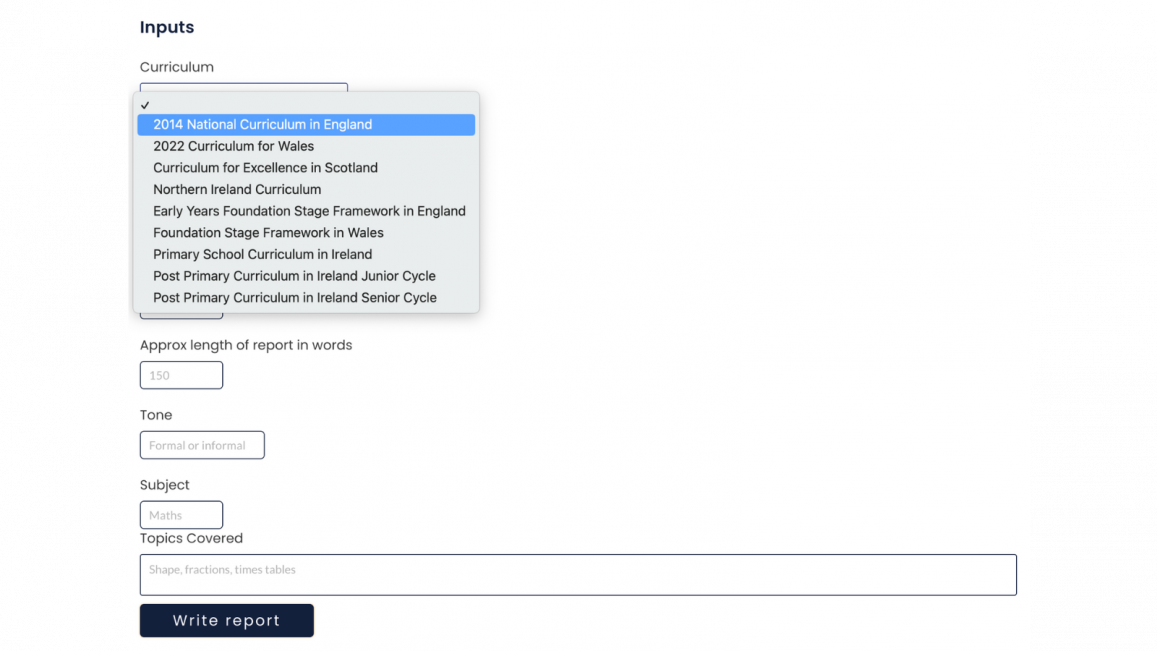 This tool is as simple as the previous one - input in the topics covered and wait for AI to put together your report. For this one, I tried out using just 60 words, linked to the Year 4 maths curriculum. You can see what it came up with below:
Kate has made brilliant progress in Maths since the beginning of Year 4. She has mastered fractions, times tables, multiplication, division, shape and space, addition and subtraction. Kate is confident in her abilities and consistently participates in class discussions with ease. She is always willing to help her peers and shows excellent problem-solving skills. Kate is an asset to the class and should be commended for her relentless effort
While this works perfectly for the pupils that have mastered the curriculum, it would obviously need some editing for those who have struggled in certain areas, or are "working towards" on a curriculum level (though watch this space, as I get the feeling the TeachMateAi team are hot on updating and upgrading their platform every week).
What else can TeachMateAi do?
Having covered the most pressing question for teachers during May, I then moved on to see what else TeachMateAi could help me with. By the time it came to testing out their Letter Writing, I was starting to get the hang of how TeachMateAi works... and starting to have a little fun with it. You can see one of many letters I produced below: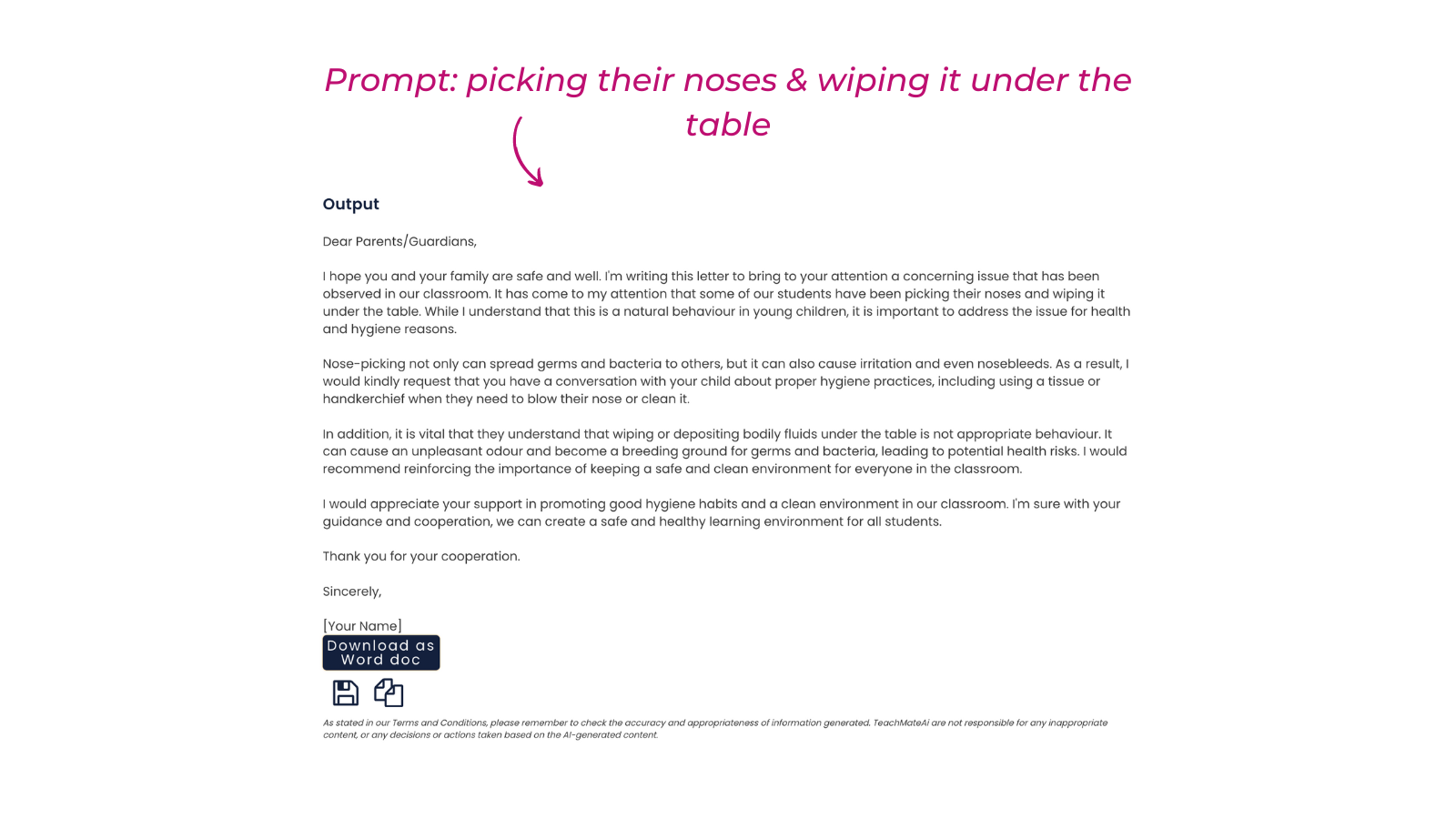 It's good at admin... but can it help me teach?
By now, I'd realised that this platform is going to be revolutionary for a lot of those admin tasks that eat up a lot of time. The number of tools is huge, including policy & IEP writers, risk assessments, permission slips, and performance management targets - all tools that will help teachers take back control and - well- actually be able to teach.
However, the platform also boasts some hopeful teaching aides, such as a slides generator, lesson planner and progression document, which were next in line to try.
Teacher Tools vs Classroom Tools
At the time of writing (May 2023), TeachMateAi boasts 24 Teacher Tools (some of which we've just covered) & a further whopping 41 Classroom Tools. Choosing just 3 to review proved tricky, but I've given it my best shot & tried to choose ones that cover a variety of curriculum areas. You can also see all of their current classroom tools in the image below: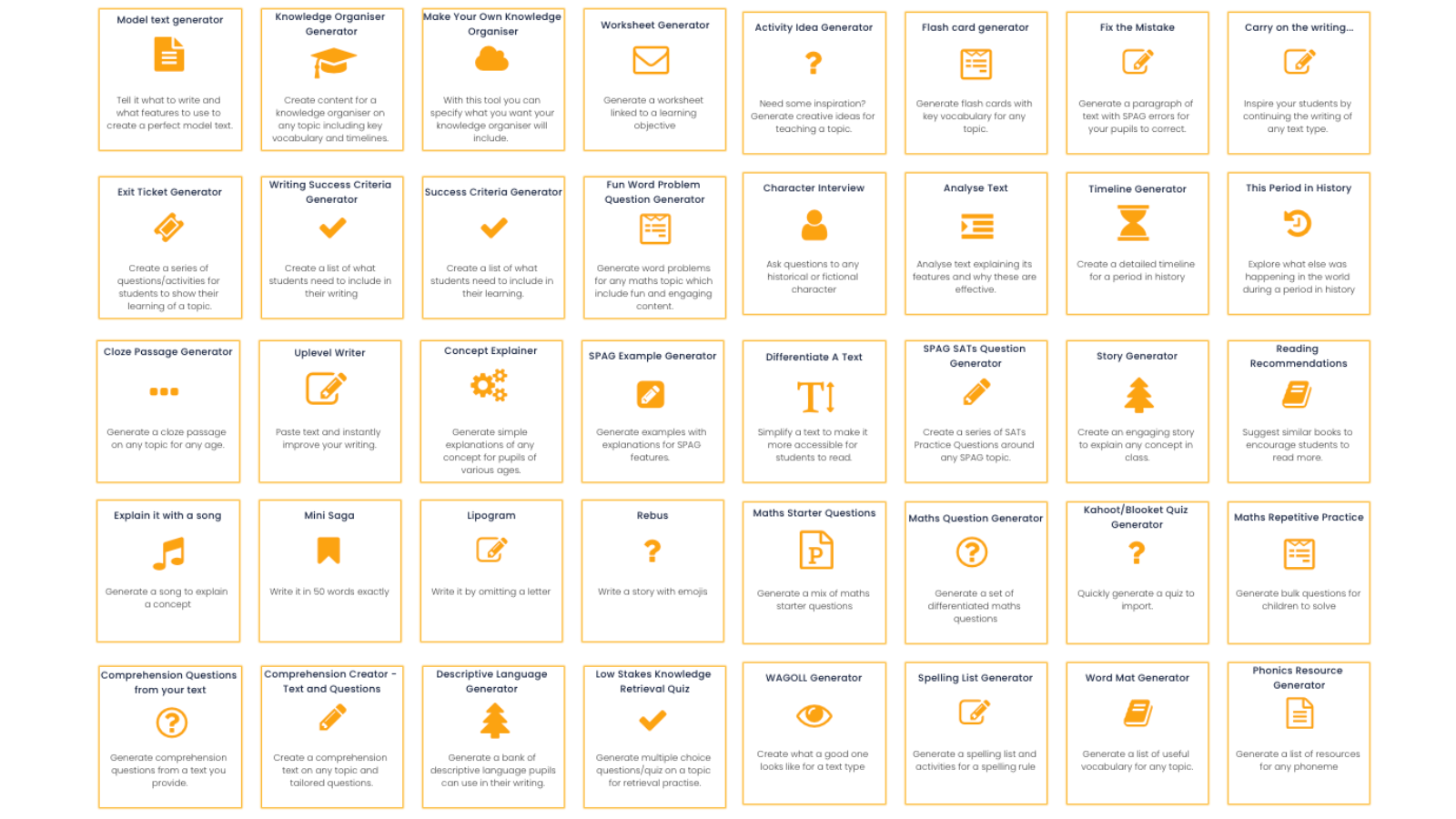 Worksheet Generator
This one sounds exciting from the off - could this mean finally getting rid of my Twinkl Teacher Subscription?
As I'd already tried out the first few tools using my comfortable 2014 National Curriculum for primary, I decided to branch out about for this tool and choose a line from the KS3 National Curriculum to see what I could make. Here's the bulletpoint I chose:
knowing how language, including figurative language, vocabulary choice, grammar, text structure and organisational features, presents meaning
- The National Curriculum, 2014, English programmes of study: key stage 3
And from that, the Learning Objective I created:
I can use figurative language to present meaning (Year 9)
I've included a picture below to show you the results, as I'm not sure how to sum them up. Yes, you'll probably need to change the font to something your school likes, and maybe you'll want to chop and change an activity - but a worksheet with 5 activities (and an extension task, not shown) in less than 60 seconds is a win for any teacher.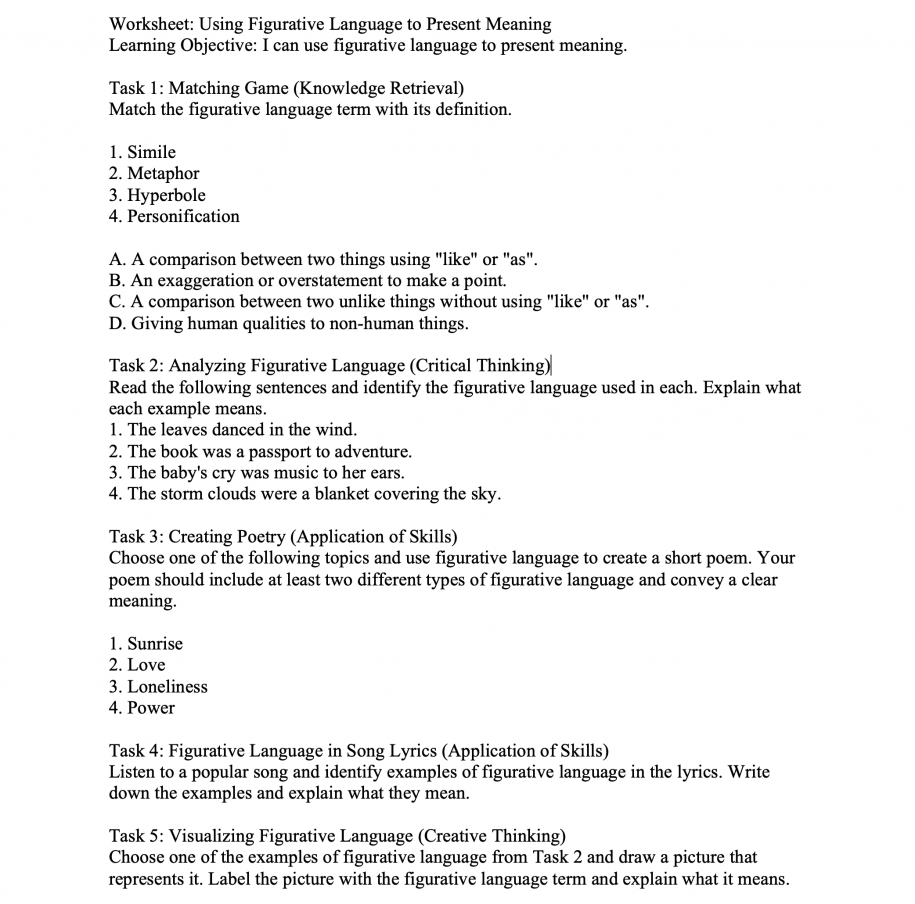 Flashcard Generator
As I said before, I trained and taught as a primary school teacher in England, using the NC14. However, for the sake of this article, I knew I needed to test some of the other curriculum areas to show TeachMateAi's full capabilities.
With that in mind, here are some flashcards I created using The Curriculum for Excellence (Scotland)* on Catholic Christianity (subject), on the Son of God (topic) for a P3 class.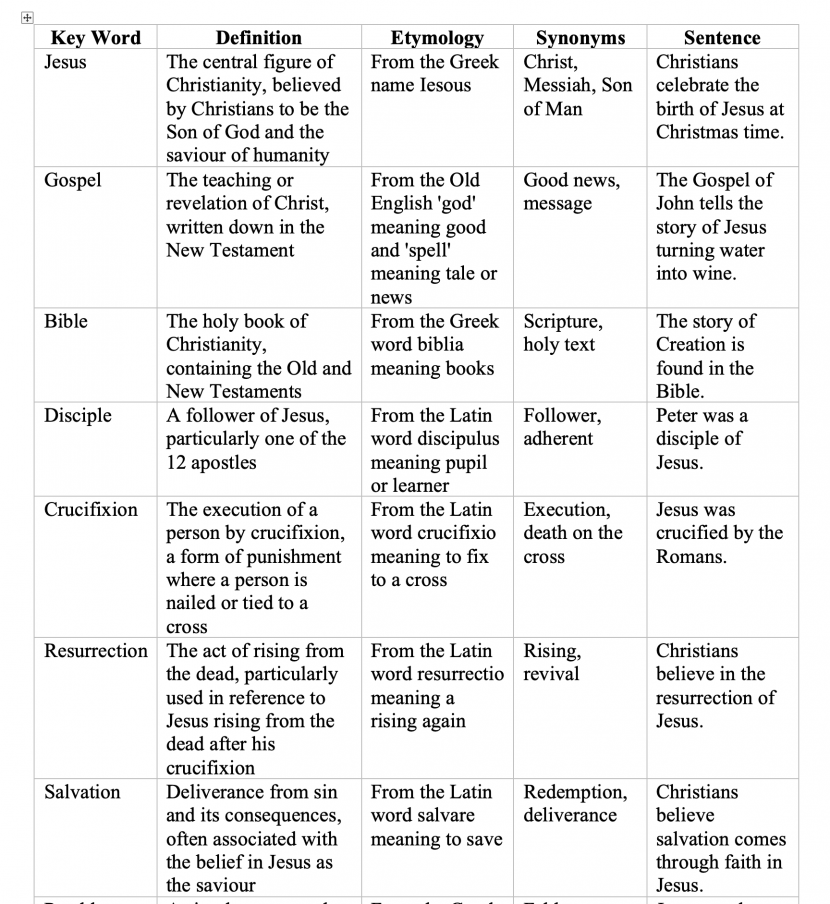 *Fortunately, TeachMateAi gave me a little summary to teach me more about the Curriculum for Excellence, writing that "In P3, the main learning objectives for the topic of Son of God in Catholic Christianity include developing an understanding of the life and teachings of Jesus, as well as exploring the central beliefs and practices of the Catholic Church."
Content-wise, these seem good. Visually, as a primary teacher, I feel like we've gotten used to images or colours, but for the speed that these were made in- and the ease of downloading them (into a word doc) and printing, I can forgo the pretty images.
Maths Repetitive Practice
With literacy skills & a bit of history/RE covered, I next moved on to a maths tool - using the following prompts:
Using just 5 words, here's the output I got. Ranging from simple algebra to ones that could be used as a brain test in a newspaper. Like before, these can also be downloaded as a Word Document, making them easy to print off and use straight away. And, of course, the options are endless - times table practice for primary, word problems - anything.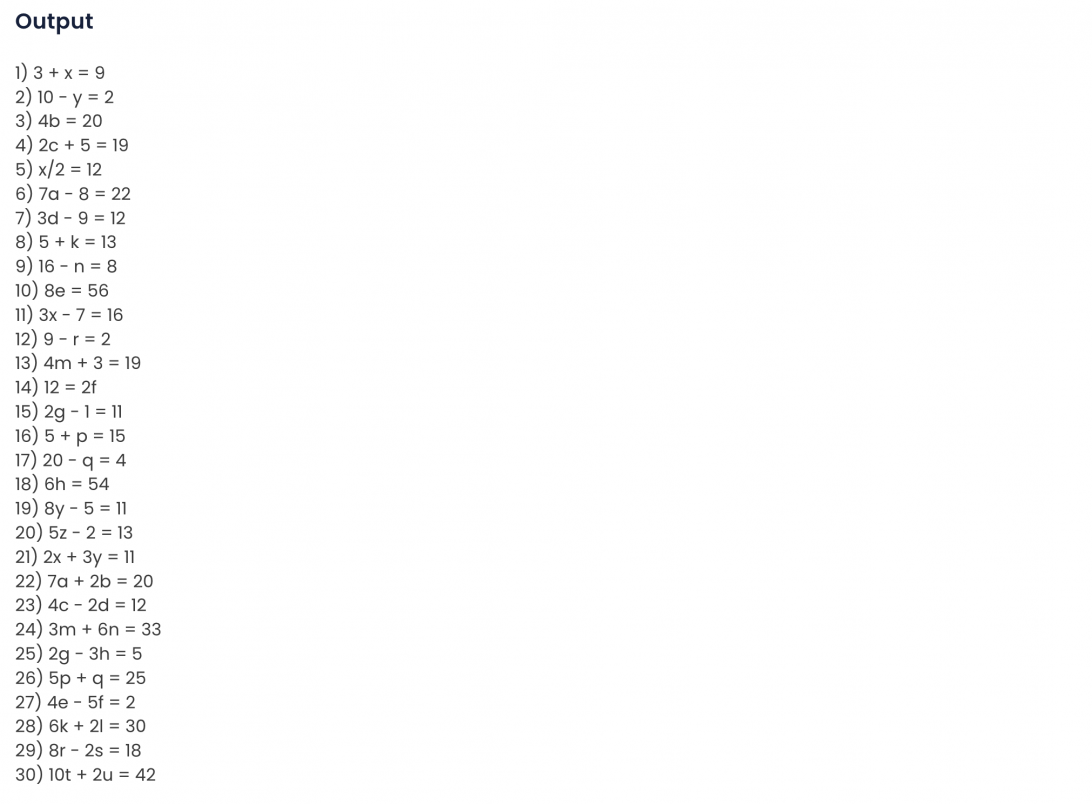 Differentiate Text
For my last test of TeachMateAi, I decided to test out their differentiated text tool. Teaching in a multicultural area of London, I often taught children with English as a second language (EAL) who found it difficult to access class texts. With this in mind, I took the opening of C.S. Lewis' infamous The Lion, The Witch and The Wardrobe and asked TeachMateAi to make it accessible for a Year 2 reading ability. You can see the inputted and outputted text below: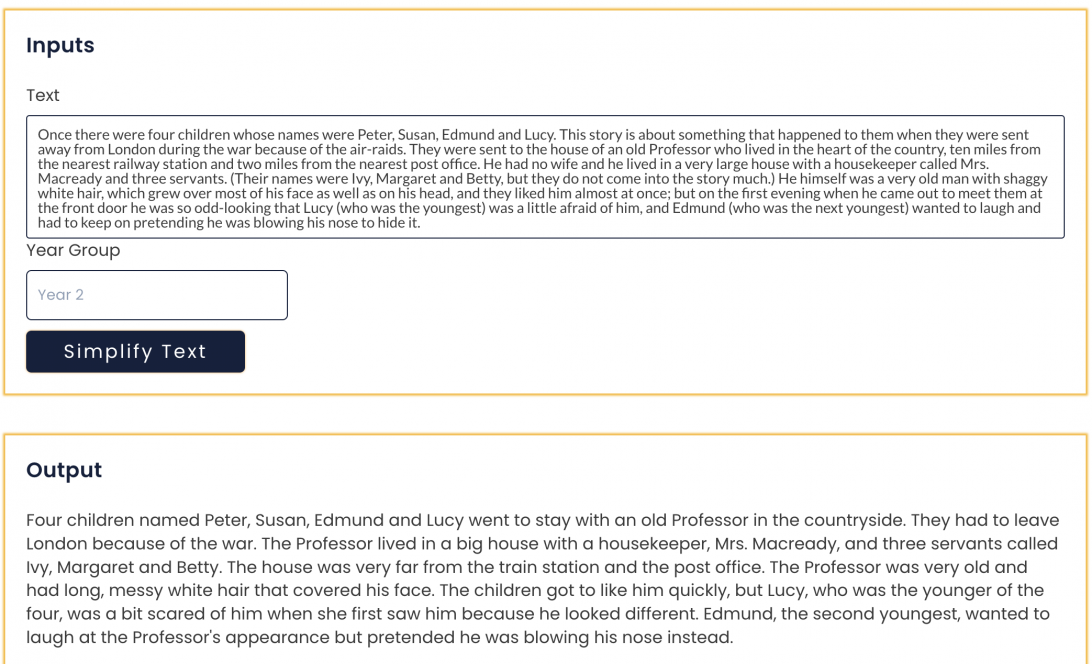 What else do I need to know?
So far, I've only really told you about a few specific tools that I've tested out of the near 100 available tools, so the first thing to know is that there is a lot more this Ai can do to help you plan, teach, complete admin and cut your workload.There are also more and more tools being created each week, with 39 extra tools marked as "coming soon" (including writing feedback and exam marking, which sound exciting). You should also know that AI is not instant - I timed the response time TeachMateAi took to give me an output and it came out on average of 20 seconds. Still, 20 seconds to create a worksheet or write a report is a zillion times quicker than it would've taken me to do myself.
Also, there are a few tools that I wasn't absolutely in love with - for example, while the lesson plan generator gave an amazing rationale of how the outputted (in 20 seconds!) lesson met a multitude of curriculum areas, and made for a great lesson, when I used the same descriptions in the Lesson Slides Generator tool, I was given a slightly different set of slides. This said, the Lesson Slides Generator also came up with it's own lesson plan, matching the slides, so I guess the two aren't made to be used together. In retrospect, I'd probably save the lesson plan generator for helping me plan a lesson for an observation (with it's great rationale and curriculum links), and the Slides Generator as an every day tool to create a starter Powerpoint for my lessons.
It's also worth noting that the Slides Generator creates text based slides. I imagine this works well for KS3+ lessons, but not so well for a KS1 teacher trying to explain halves and quarters for a shape. So, like most things, some tools will work brilliantly and save you time, and others won't be of use to you, depending on your role within a school.
Lastly, the team at TeachMateAi seem incredibly helpful. They responded to my email asking if I could use their platform on the same day, and answered any follow-up questions I had immediately. Through the platform you can report bugs and issues, and also suggest a tool that you would like to see, meaning that this platform is only set to get better and better.
Is it free?
If you've made it this far, you're probably invested the potential of this tool and the jobs it could cut out for you. The good news is, you can start accessing some of the tools for free, including 5 free report outputs and the Maths starter Questions tool.
If full access is what you're after, TeachMateAi is priced well, at £6.99 per month for individual use, or £72 for the year. There are also pricing models available for whole school access, such as £395 for 10 users - making it less than £40 a year. I asked some of my teacher-friends whether they would pay for it's use and the responses were split - while we all agreed that this tool has the potential to cut workload immensely, it wasn't long before the wider debate of whether teachers should pay out of their own pocket for subscriptions and resources came about. That's for you to decide. But it could be worth speaking to your SLT about...
-------
Amy was a primary school teacher for four years before joining VotesforSchools. She remembers Sunday planning sessions and trying to make a wealth of resources each week, so she reached out to TeachMateAi and asked if she could trial their platform and share it with VotesforSchools' audience.