Thanks to the British Council and FCDO's Connecting Classrooms Through Global Learning Programme, we have been fortunate enough to provide schools in Nepal, and their partner schools in London, with access to our weekly resources.

The pilot, which has been running since last November, seeks to bring Primary schools in North London, a little closer to their Connecting Classrooms counterparts in Lalitpur (just outside Kathmandu) and Biratnagar (close to the border with India) through the power of pupil voice.
As the fantastic staff at all the schools have taken on the project with great enthusiasm, we want the work their pupils have produced to do most of the talking! At Lilliput Premier Elementary School, they really got stuck into our topics on what makes a good teammate, the environment, the future of learning, and cyber security, producing beautiful work which showcased their newfound knowledge and range of ideas: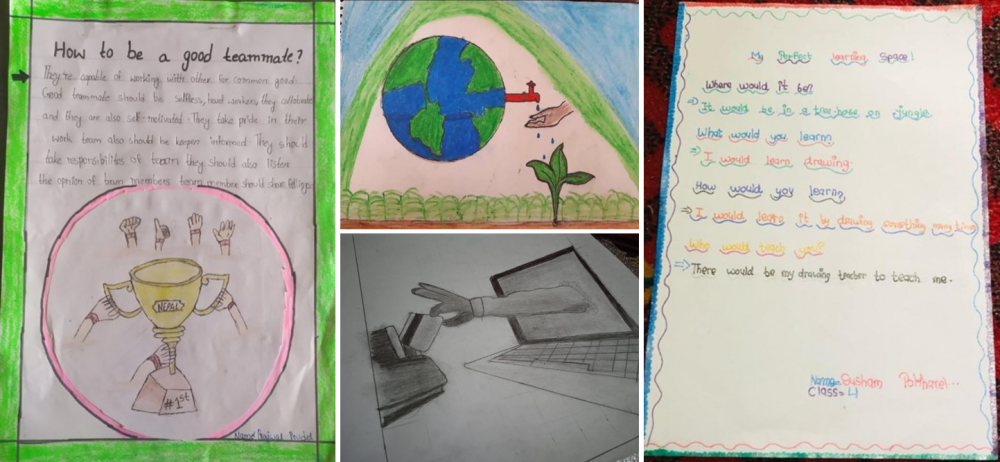 Similarly, at Wilbury Primary School, they combined British Science Week with our topic on gender stereotypes for International Women's Day by asking pupils to draw what they thought a scientist looks like. According to their teacher, at first "most of the pupils drew a white man, although I was pleased to see a few did draw women". Here are some of their works of art:

As you can see, after lengthy discussions about gender stereotypes, skin colour, and nationalities, pupils were then tasked with drawing another scientist. The difference these conversations made is pretty clear!
But it is not just wonderful pictures that pupils have been producing. Over at Bell Lane Primary School, when asked to share their views, responses ranged from sharing what they had learned about the world, to how they felt empowered to use their voices, to the skills they think they have built. Here is a snapshot of what they had to say:
"VfS has taught me about the world. It has helped me to find out about the world around me. I know so much more about the world and lots of facts that I did not know."
"What I like about VfS is the quizzes from all around the world. The topics have made me think creatively."
"I was inspired to make my own films from the VfS sessions. I have learnt that I can change the world and that I can make a difference to children's futures. I want to become a presenter and make my mark in the world."
"I have learnt lots of new things about the world. I can now have discussions with my friends and families. My favourite topic was chocolate [for Fairtrade Fortnight 2021]."
They also shared some of their wonderful projects with us, which spanned topics such as Black History Month, Anti-Bullying Week, Remembrance Day, and building skills of empathy and self-reflection.


It goes without saying that all these learners are being informed, curious and heard, which is precisely what we set out to achieve with both the Connecting Classrooms pilot and with VotesforSchools as a whole.
Plus, schools working within an international partnership are seeing the positive impact this can bring - enabling real and meaningful contact between learners and motivating them to share ideas, discuss their experiences, and take action on issues that are important to us all. International collaboration evidently increases knowledge and understanding of the wider world, helps learners recognise shared goals and values, and to understand their important role as active global citizens.
We hope that the use of our resources will continue to contribute to a strong bond between UK schools and their international partners, no matter where they are in the world and the different lives our voters might lead.
---
If you would like to find out more about the Connecting Classrooms programme, please check out the following links or contact schools@britishcouncil.org (please state that heard about this opportunity through VfS). The next round of funding applications closes on 14th June.
They also host regular webinars for schools and staff who are interested in the programme. If you would like to attend a webinar, please contact Anne Roots: annerootsconnect@gmail.com.
Header Image Credit: Pixabay