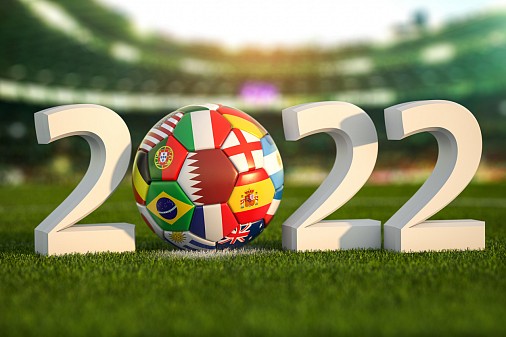 With England winning their opening game 6-1 and Wales in the tournament for the first time since 1958, normally this year's men's World Cup would be an exciting event for teachers to discuss with their classes. But, this year's tournament is far from business as usual. Against the backdrop of Qatar, there is much controversy associated with the tournament, and many teachers will feel hesitant talking about the event with their classes given the political undercurrents accompanying the 2022 instalment.
How can you talk about it in class?
It can be tempting to avoid talking about topics like this in the classroom with young people, but the impracticalities of this quickly make themselves known.. As with any World Cup, news coverage is full and expansive, results will want to be celebrated, and the topic will be on everybody's lips for weeks to come (Perhaps even more so than Matt Hancock's stint in the Jungle).
For this reason, we would encourage teachers to broach the subject head-on, and to create a safe space in your classroom to have conversations around the men's World Cup and why it is so controversial this year.
Free Qatar World Cup Teacher Resources
To help you with this, we have created a set of engaging and balanced lessons to equip you with the knowledge and confidence to explain to young people why the World Cup is dividing fans and critics alike.
Naturally, we're tackling this tricky issue head on by asking: Was awarding the World Cup to Qatar a mistake?
Based on former FIFA President Sepp Blatter's comments earlier this month, the lessons are factual, balanced and current, aiming to inform young people about the myriad issues surrounding the men's World Cup in Qatar and to give them a space to talk about the key issues. Before the final whistle, they will vote on their question and have their opinions heard. The goal is then for VotesforSchools to share voters' views with as many notable stakeholders and key players as possible, such as FIFA themselves.
What do the lessons look like?
Free KS3 & KS4 Resources on the World Cup in Qatar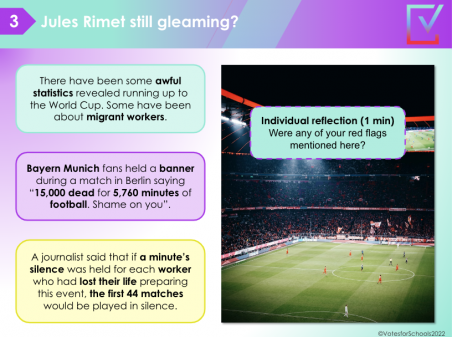 In the Secondary (age 11-16 lessons), students explore some of the criticism about the decision for Qatar to host the tournament: previous allegations of corruption made against FIFA the number of migrant workers' lives lost while building the stadia concerns for visiting LGBTQ+ football fans given Qatar's laws around homosexuality , The longer session also looks at some of the celebrities who have shared their views about the men's World Cup and the potential opinions that may emerge online during the course of the tournament.
These are issues that teachers may be able to talk to their classes about with relative confidence. But what about the positives? The first FIFA men's World Cup with female referees, the first in an Arab, Muslim country, or the fact that a stadium is going to be able to be demounted and used elsewhere... Here at VotesforSchools we have brought these facts together so that you can facilitate a balanced, informed discussion.
Free KS2 Resources on the World Cup in Qatar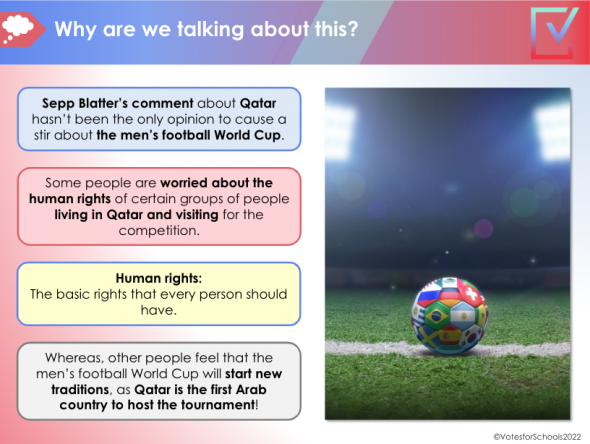 Talking to Primary-aged children poses different challenges: how to talk about these issues in a way that is accessible and engaging for a 7-year old. In our resource for ages 7-11 we've used similar examples, but with appropriate language and explanations of key terms such as "human rights". The lesson explains that some people have chosen not to go to the matches because they do not feel welcome, or that the workers building the stadia have not been well looked after. Quiz-based activities are used to tell the children more facts about the matches, and an opinion-based task encourages them to move around their classroom to demonstrate to what extent they agree with celebrities' comments on the situation.
We have spent a lot of time making sure the tone and balance of the resources are just right"says Georgie, Head of Content, so that our teachers don't have to. We will also be making sure that our children's voices are heard, and we even have Gemma Bonner lined up to comment on the final results. This is crucial for engagement and sets us apart when it comes to youth voice.
Want weekly current affairs resources?
Here at VotesforSchools, we pride ourselves on providing schools with balanced, factual lessons that allow them to talk about tricky topics with their classes. Each week, more than 500,000 young people across the country take part in our lessons, strengthening Student Voice, SMSC & British Values within their schools. To find out more about the programme, book a 20-minute demo with one of our team.