Following several requests from schools, we took on the topic of domestic abuse in February of this year. It was the results of the Secondary vote (see below), that were particularly startling, with 49% of students claiming that young people do not know the signs of an abusive relationship.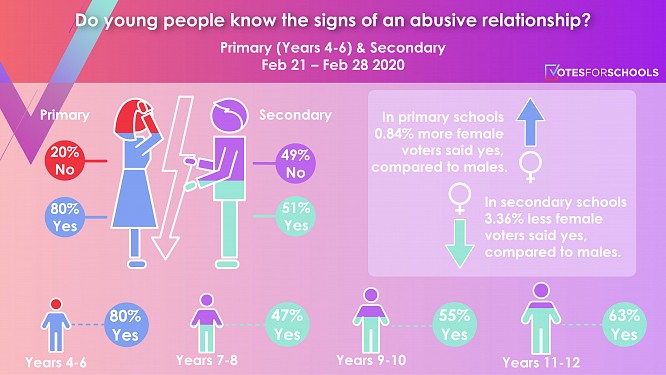 We shared the outcome of this vote with The Children's Society, who have been campaigning tirelessly in support of change to the current Domestic Abuse Bill. The Children's Commission pledged to put forward an oral question in the House of Lords based on the results. In June, they delivered. During a parliamentary debate on the aforementioned Bill (which is currently at its report stage), MP for Edinburgh West Christine Jardine quoted the response from students, saying:
"In education, a survey of just under 18,000 Secondary school pupils in February of this year found that 51% said that they could spot the signs of an abusive relationship. I find it quite scary that 51% of teenagers said that. Some went on to say that they would not know how to leave an abusive partner, so clearly the lessons that they are getting are not working in education."
The use of this data and our voters' voices comes at a particularly crucial time, following reports that domestic abuse has soared in Britain during the Coronavirus lockdown. According to statistics shared today in The New York Times regarding the UK situation, at least 26 women and girls died between March and May, the youngest of these just two years old. This offers a stark contrast to countries such as New Zealand, who had domestic abuse measures in place as part of their lockdown plan, and Germany, who have pledged funding for shelters and other services indefinitely. The response to the Government's provisions for this - or lack thereof - has been widely criticised by service providers around the country.
However, there has since been some positive progress as a result of recent discussion in Parliament. For instance, the "rough sex" defence will be outlawed as part of new legislation, and a significant change is expected to be made to how domestic abuse victims are to be treated in family courts. These developments have been lauded as significant steps forward by those who have been long standing advocates for change, and we at VotesforSchools are incredibly proud for the part our young people have played in making a difference.
The full transcript of the debate from 16th June can be found here, and you can see the progress of the Domestic Abuse Bill 2019-21 by clicking here.
Please check out the following if you or someone you know is could be at risk of domestic abuse:
And for more information about and updates from the organisations and individuals rallying for change, check out the sites below:
We Can't Consent to This have been working to gain support from all MPs to sign the amendments to end "rough sex" defences.
The Children's Society works to help and support children at risk of a range of abuses.
Amnesty International is asking for donations to support their work in protecting those at risk of domestic abuse during lockdown.
---
Georgie is a Content Developer at VotesforSchools, creating weekly content for Colleges and Prisons. Her blog series, Power to the Pupils, will take a retrospective look at how the results of the debates by young people in the classroom are coming to fruition – or not, as the case may be. Please email her at georgie@votesforschools.com if you have any questions or comments about this post or future ones.
Header Image Credit: iStock